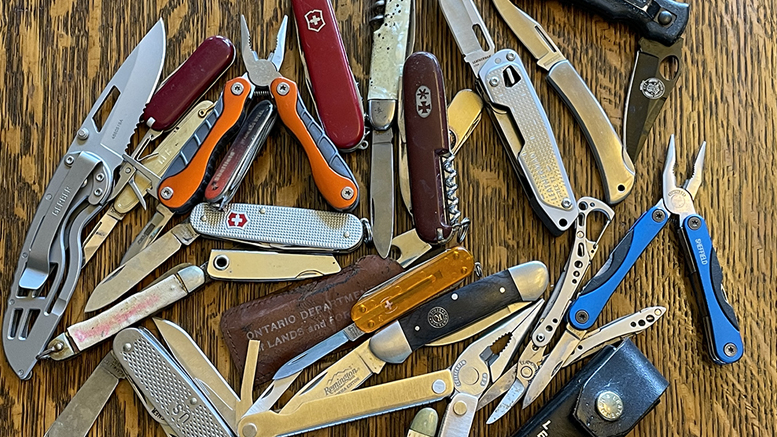 It's a sharp addiction – Muncie Journal
By John Carlson—
My name is John and I am a pocket knife addict.
This is, I guess, how I will introduce myself to my fellow cutlery addicts in Pocketknife Addicts Anonymous – assuming that's one thing – when I show up in pursuit of a 12-step program to overcome the urge. that is pocket knife addiction.
I have been addicted for years …
Even as a child, pocket knives were a craze. Two doors down, my neighbor Dougie already had a miniature with a fake mother-of-pearl handle. I was envious, but hardly surprised. While my parents were spotlessly clean Baptists, he drank beer and smoked Lucky Strikes, one of which Dougie freed from his packet to introduce us both to the joys of tobacco when we didn't. than six or seven years. It felt natural for a child like that to pack a blade, even though it was only an inch and a half long.
I had to wait for my first pocket knife until I was nine, when I enlisted in the Cub Scouts. On that magical day, the whole family accompanied me through town to JC Penney. There I felt like I was spending hours trying on the Cub Scout shirt, Cub Scout pants, Cub Scout belt, Cub Scout scarf and Dorky Cub Scout brimmed hat.
The truth was, I didn't care at all about it, especially the beanie.
But eventually we approached the Promised Land, the glass counter beneath which the pocket knives were displayed, and there was mine! It had a solid feel, was adorned with a Cub emblem, and had a blue textured grip that contrasted beautifully with its shiny silver blade, awl, and screwdriver / can opener. As I walked out of this store, I was floating in the air.
From the start I was allowed to wear it to Allen Elementary School, the 1950s being a time when killing children in their schools was unthinkable. We boys would pull out our knives at recess to play our own version of mumplety-peg, the rules of which were always sketchy. The important thing was that neither of us ever accidentally stabbed ourselves in the foot.
This first pocket knife was very useful to me until November 1963, when I was thirteen. On my way up to the Corner Store on Cleveland Street, I intended to buy something to suit my mood. It was not unusual. I had bought countless Cherry Cokes from his fountain, cheap model airplane kits from his shelves, and "Sgt. Rock "comics from his magazine racks.
This time, however, my mood was darker. For just a few dollars, I bought a cheap but obnoxious looking pocket knife with a six inch blade. It was the kind of ugly knife you might have seen wielding a juvenile delinquent in a movie like "Blackboard Jungle". It wasn't entirely clear to me why I bought it except that President Kennedy had been assassinated a few days earlier, and even a stupid kid could somehow feel that , things weren't right at all. Looking back, I may have used this tragic event to rationalize my purchase, but I don't think so. Around that time, it was just a good idea to have an extra pocket knife on hand.
After that, however, I continued to collect pocket knives under happier circumstances. Both machinists, my grandfathers kept worn-out pocket knives in the greasy-smelling toolboxes that hinted at the skills of the worker in their rough hands. A few times I told them about an old dented pocket knife, all the more precious to me because they had owned it.
These days I sometimes pull out my pocket knives just for the sake of getting to know each other again.
There are a few official Swiss knives, a traditional one with a red handle and one with a silver handle, both solid tools made by Victorinox, which do the best. It's a way of saying you're a true pocket knife snob: you turn your nose at official Swiss Army pocket knives made by lesser manufacturers like Wenger, which I find inferior.
I mean, who other than a pocket knife weirdo would even have an opinion?
Other? There are those that look spacious that my grandfathers probably wouldn't even recognize as pocket knives. All kinds of multi-bladed tools, too. Plus, there's a bone-handled beauty that's much older than me, souvenir knives celebrating places like Niagara Falls, and a cheap Remington made so well made you close its blade at the risk of losing a finger. .
However, not everything about checking my stash makes me happy. Over the years, I have lost my share of pocket knives. There's a favorite green Cutco with a locking blade, one I haven't seen since digging in my pocket to do groceries while on vacation in Florida.
Five years later, I still regret the vacation.
Of course, emotionally involved with pocket knives as I am, the benefits of owning them far outweigh the grief of losing one.
First off, let's say you're walking around somewhere in Indiana and getting bitten by one of the copper heads that are supposed to come out en masse because they're craving the taste of cicadas. You have a way of making cross cuts in the flesh on the pricks of the fangs like the rattlesnake-bitten cowboys did in westerns, even though the doctors say don't do that anymore.
Second, it makes it easier to buy gifts for other pocket knife nuts. I have only bought pocket knives for my son as a gift for the past ten years.
Third, it also works in your promote. Nancy kept asking me last December what I wanted for Christmas, and I couldn't think of anything blessed. Finally, exasperated, I said "Go to Lowes, find the pocket knife display, then buy me something. cheap From this."
I even made it sound like a sacrifice.
But on Christmas morning, I opened up this stocky little Leatherman, excited as a kid. Every day since, I have felt its comfortable weight in my hand or pocket… and I have smiled.
Now how are you going to beat this?
---
John's Weekly Columns are sponsored by Beasley & Gilkison, Muncie's trusted lawyers for over 120 years.
About Beasley & Gilkison
We listen, analyze your unique situation and prepare an action plan that best suits your needs. Contact one of our attorneys to schedule a consultation, or for more information call 765-289-0661 or visit our Facebook page or website at beasleylaw.com.
---
Former writer and longtime columnist for The Star Press in Muncie, Indiana, John Carlson is a storyteller with an unwavering appreciation for the wonderful people of East Central Indiana and the stories of their lives, no matter how funny, poignant, inspiring or all three. . John's Columns appear on MuncieJournal.com every Friday.