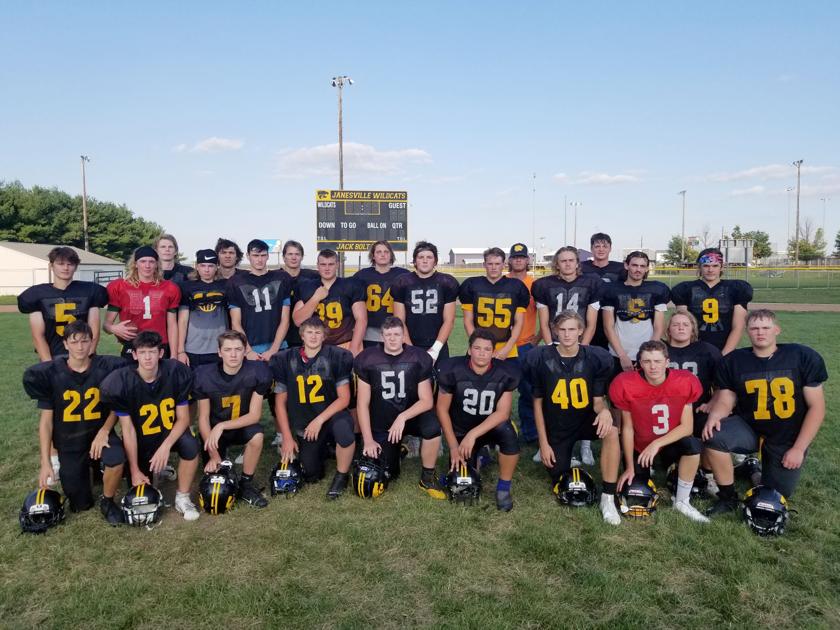 PREP FOOTBALL: Janesville overthrows Warriors to stay perfect | Waverly Newspapers
Janesville continued her unblemished run to start the 2021 season on Friday.
Senior quarterback Leo Dodd threw three touchdown passes and rushed for two more, while classmate Jared Hoodjer rushed for three goals as the Wildcats beat Rockford, 54-12, at Rockford .
Janesville (4-0 overall, 3-0 to 8 players, District 3) led 28-0 after the first quarter and had a 42-0 advantage at halftime.
Dodd completed three of nine attempted passes for 94 yards, while Hoodjer had 14 carries for 133 yards. Senior Wiley Sherburne had a 47-yard touchdown pass, while Hoodjer had a 30-yard pass in the end zone and senior Blake Destival had a 17-yard touchdown pass.
Hoodjer also led the Wildcats with nine total tackles, including six solo saves and 1/2 tackles for a loss. Dodd picked up a fumble, while junior Keegan Eastman caught an interception.
Clarksville held a comfortable lead after the first quarter and withstood a rally in the second to enter halftime with a six-point lead on Friday.
But the Indians couldn't hold on as West Central scratched and worked their way to a 54-52 win.
Clarksville (1-3 overall, 0-2 for 8 players, District 3) led 16-0 after the first quarter and 28-22 at the break.
Statistics for this game were not available at press time.
Tripoli fell behind early and could never recover in a 40-22 loss to Gladbrook-Reinbeck on Friday.
The Panthers (2-2) trailed 34-0 at halftime.
Tripoli senior quarterback James Davis completed eight of 27 passes for 46 yards and threw three interceptions. He also ran 39 times for 180 yards and two touchdowns. Junior Rowan Carlson also ran for 8 yards. Junior Bryce Schroeder recorded seven best tackles overall, including six solo saves, 1/2 quarterback sacks and 1/2 loss tackles.
Nashua-Plainfield couldn't contain North Tama's explosive offense in a 50-22 loss on Friday.
Nashua-Plainfield trailed 30-0 at halftime.
Huskies junior quarterback Bo Harrington completed seven of 14 passes for 100 yards with one touchdown and three interceptions. Senior Trey Nelosn and rookie Aiden Gelner each finished with a rushing touchdown. Senior McKade Munn had the best total of 8.5 tackles per team, including seven solo saves.
The North Tama senior quarterback has scored six total touchdowns. He threw for 326 yards and rushed for 112 more.
Wapsie Valley scored the first goal and never looked back in a 42-0 win over AGWSR on Friday in Fairbank.
Wapsie Valley (2-2 overall, 2-1 Class A, District 3) led 21-0 at intermission.
Warriors junior quarterback Casey O'Donnell completed 12 of 16 passes for 159 yards and one touchdown – an 18-yard throw to junior Andrew Westpfahl. Senior Holten Robinson ran for 114 yards and two scores, while junior Hunter Kane ran for 97 yards and two touchdowns. Kane led the defense with six tackles, including four solo saves.
Wapsie Valley forced three turnovers, including two interceptions from junior Dawson Schmit and one from Robinson.
Kade Mitchell went wild on Friday night to help Sumner-Fredericksburg clinch a 75-0 win over Postville.
The junior running back rushed for 186 and scored five touchdowns in the win.
Sumner-Fredericksburg (2-2 overall, 1-0 Class 1A, District 4) took a 57-0 lead at halftime.
Cougar eldest Peyton Schmitz rushed for 48 yards and two goals, while sophomore Jaxon Willems found the end zone twice. Freshman Noah Henderson and sophomore Jesse Jones also scored one touchdown each. Senior Klay Seea paced Sumner-Fredericksburg with 4.5 total tackles, including four solo saves and two loss tackles.
Sumner-Fredericksburg forced seven turnovers, including six fumbles recovered overnight.