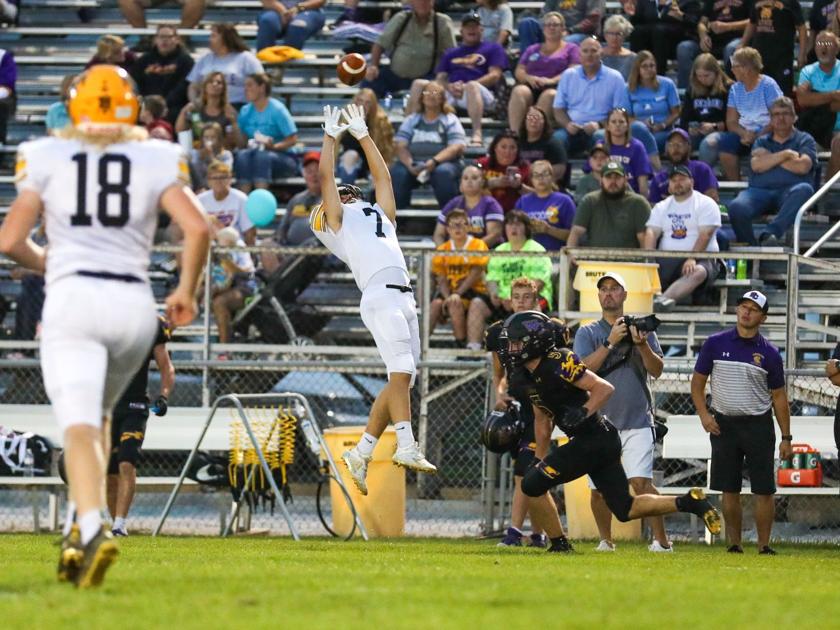 Santoiemma Makes Secondary Newspaper Headlines for W-SR | Waverly Newspapers
Mikey Santoiemma has spent most of his junior season learning and taking mental notes on the sidelines.
Towards the end of the season, his playing time increased. He started the second half of the Waverly-Shell Rock playoff game at Western Dubuque and finished the season with 10.5 tackles, including nine solo saves.
Santoiemma used this late-season momentum to get a head start on 2021. He has spent countless hours training over the summer and has been heavily involved in the strength and conditioning program of W-SR. He also participated in side drills with his teammates and worked on his footwork and technique.
He didn't just go with the flow. Everything he has done from last December to today has been accomplished with purpose. With W-SR graduating from the majority of his defensive field last season, Santoiemma was not going to let his chance to land a starting job slip away.
"I knew I would come back to play in the area and I knew they would need me for that," he said.
Santoiemma's number has been called. He thrived as the Go-Hawks' No.1 cornerback.
In the past, size hasn't been a force in W-SR high school. Santoiemma, 6 feet tall and 180 pounds, is one of the tallest cornerbacks in recent memory.
"He looks like a security sometimes with his size," said W-SR coach Mark Hubbard. "But with his hips and feet he definitely did a great job at the corner.
"He's unique in his own skill set. A lot of our corners have adapted the prototype of smaller, faster, undersized guys, and he's just as quick, but he's not small. I don't know if we had a corner as big as him.
Santoiemma, who has also been a big factor as a punt returner, has not only used his size this season, but his speed as well. He credits the improved technique and attention to detail to his success on the pitch, as well as his defensive coaches.
Last season, the Go-Hawks' defensive backs focused on stirring their feet and playing the deep half. This season they are using the term "warm feet" to keep them on their toes and in front of the receiver or running back they are defending.
"When you're in a man just make sure you cut off your feet and once he takes a step you are heading in his direction as well, so the receiver has a harder time getting around you," explained Santoiemma on the new defensive schemes.
Another good quality Santoiemma has had is the luxury of facing his classmate Kaiser Luck, who, at 6-2, is W-SR's top receiver, in daily practice.
"It really gets you used to the advantages of your height when you're smaller versus someone who's taller, so you know where to be in certain places for certain routes," Santoiemma said. "If you see a scythe coming you know where to be and in a perfect spot for the ball, or you just play more aggressive because you won't be able to get that high. Playing against Kaiser gives me a really good look into the week and just in case I have to face a receiver taller than me.
The use of new techniques and the clash against Luck, who is a few inches taller, led to considerable results on the pitch for Santoiemma. He recorded 9.5 tackles, including eight solo saves and ½ loss tackles. He's also tied for first in Class 4A with four interceptions, including two in the 42-0 win over Marion last week.
"I don't really pay attention to the statistics," he said. "I'm just focusing on the team and where we want to go. We have high expectations and we just have to meet them. Statistics really don't matter to me. Just help the team as much as (I) can and do (my) job.
The Go-Hawks' interception leader continues to be a student of the game. When not focused on his studies or training and conditioning, he watches a movie, destroying each week's opponent and identifying all of them. the perks he can use to help him succeed on Friday. He'll try to do the same when the Go-Hawks (5-1 overall, 2-0 4A, District 2) host Mason City (2-4, 1-1) at 7:30 p.m. at Go-Hawk Stadium.
"As the season progresses Mikey would be the first to tell you that he wants to keep improving and keep sharpening the saw," said Hubbard, "but he's also a guy who plays with a lot of confidence and a the guy who we think still has a lot of football to play.
For now, Santoiemma's focus remains on his technique, studying the film and doing whatever he can to help put his team in the best position for success.
"We have big expectations and big dreams and we want to go far," he said. "We have to be strict in everything we do. "