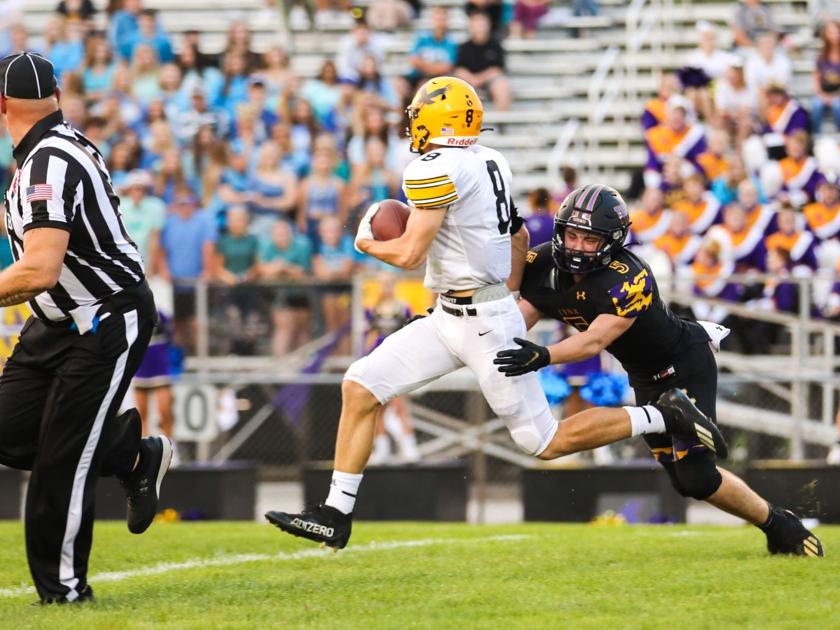 W-SR's luck took an unconventional path to become a starter | Waverly Newspapers
The path Kaiser Luck has come to become a staple of the Waverly-Shell Rock offense and special teams was unconventional.
He didn't grab the attention of his coaches with highlight reel sets on Friday nights. Instead, Kaiser impressed the most on the training ground behind Go-Hawk Stadium.
As a junior last fall, Luck started the season with the JV team. Due to the COVID-19 pandemic and the nature of lower-level games that are often moved or canceled altogether, he has played in less than five games. He was grateful for the opportunity, but he also took advantage of another.
Luck was a member of the Boy Scout Team, a unit that replicates the University opponent each week during training. Luck reproduced each team's top receiver and faced W-SR's first-team defense. He held on, going through high school, jumping and making contested catches. He did it enough to get the attention of W-SR coach Mark Hubbard.
"Kaiser is truly a self-made man," Hubbard said. "If you turn the heads of the Boy Scout team, it usually tells us something about your character. It would be easy enough to stay on the Boy Scout team. … He kissed her. It's kind of a win-win. He could help the defense of the first team and obviously help himself by going strong with this scout team.
"There would be a lot of games where he would get into traffic and get the ball back. He would get behind our secondary, and when that starts to happen regularly, you have to start wondering if he's a guy we need to move to the offensive side with our starting units.
Chance to his new role at heart and made his own luck pushing his starting teammates to the other side of the ball to be the best they can be.
"I saw it as a challenge to beat everyone," Luck said. "I had competition around me; we've had a bunch of other great X's and I can come in and train and work as hard as I can so I can keep it because there is always competition. If I hurt a week and someone is doing really well, I could lose them very easily. Every week is a chore.
Luck impressed his coaches enough to gain some starting time on offense and special teams in the final three weeks of last season.
Over the summer, in 7/7 exercises, weightlifting and conditioning sessions, and team camps, luck continued to impress. This time he was determined to get his first job. And that's exactly what he did. He's the Go-Hawks' starting "X" and kick-off returner. As a senior this season, Luck leads the Go-Hawks with 13 catches and 195 yards. At just 6ft 1, those numbers are impressive. What he lacks in height, luck compensates for by his pure athleticism. He has a 35-inch vertical jump, and he has an uncanny ability to create space, get rid of defenders and, if necessary, block off the pitch to open up running lanes for his teammates.
Luck attributes his time on the Boy Scout team to the skills he now masters.
"I was guarded by some really good turns all year round – the college turns – and I guess I just found ways to constantly open up throughout the year," he said. declared. "I've found that selling vertically and breaking down a lot harder helps a lot, and I'm sticking to that. "
Not only is luck a threat in the passing game, but he can turn the court quickly whenever he camps under a kickoff, ready to throw a slingshot across the field and give his offense a good kick. position on the ground. He's averaging 21 yards per return this season. His 37-yard kickoff return brought W-SR to final first-half ground in a 31-14 win at Webster City on September 10.
"He stepped up in the second leg and that's just an added advantage," said Hubbard. "We didn't know where he would fit into that, but now he's obviously also a weapon in the second leg. It shows you how tough and hard it is to stick your nose in there and kick those kicks back at us.
When the W-SR (3-1) open Class 4A, District 2 in Waterloo East (1-3) at 7:30 p.m. Friday, they will look to build on what is shaping up to be a memorable senior campaign. He is ready to do anything to help his team succeed.
Unconventional or not, the road traveled by luck has paid off. Now he is enjoying the ride.
"I knew this was going to be a great year," he said. "So I want to do my part in the team and I knew if I did my part then we could go far because then we would be a threat all over the pitch."