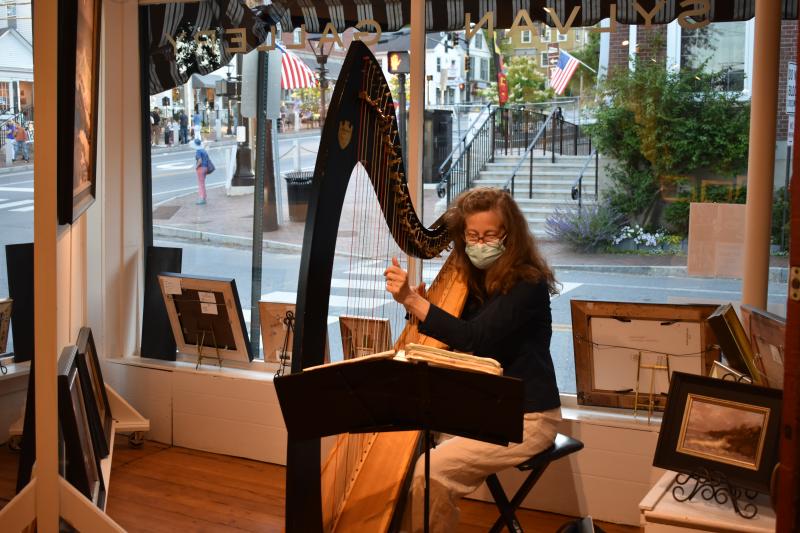 Wiscasset Art Walk 'rocks' in the new season
A beautiful Maine summer evening welcomed attendees to the first Wiscasset Art Walk of 2021. Sidewalks were lined with 40-50 people at all times during the event on Thursday, June 24, enjoying the music, exhibits vendors, shopping and dining.
Main organizer Lucia Droby was very pleased with the turn of events stating that "the weather was perfect, people were thrilled to be out, see friends, explore and enjoy the camaraderie again in a public framework. Our special events, designed to engage our visitors in artistic creation, were very popular! "
Artist Seth Bond Perry was featured in the Hasenfus Gallery. It was Perry's debut for his artwork; he recently went from being a professional graphic designer for 20 years and from eight years to stand-up comedy. When asked how long he has been an artist, he replied for a very long time. "I've always been the kid to doodle in class."
The evening brought together several musicians with Rick Turcotte on guitar in front of Treats, Suki Flanagan on harp in the Sylvan Gallery, David Lawlor playing jazz guitar in the Wiscasset Bay Gallery and Heather MacLeod playing Penny Whistle on the sidewalk.
Participants were invited to contribute to a community mural on Middle Street and paint rocks with volunteer Jan Whitfield at "Wiscasset Rocks!" board. The two were busy all evening.
Looking ahead, Droby said, "We will build on the success of June's community art projects with our talented volunteers, Celia Ludwig and Jan Whitfield, by inviting WAW strollers to tap into their creativity each month. We will also be hosting special events throughout the summer, such as hip-hop dancers, Downeast Brass, and a twig artist, all bringing liveliness to our new sidewalks. And, of course, we will continue to invite local community groups and artisan vendors to participate.
The Art Walk takes place the last Thursday of the month until September, from 5 p.m. to 8 p.m.