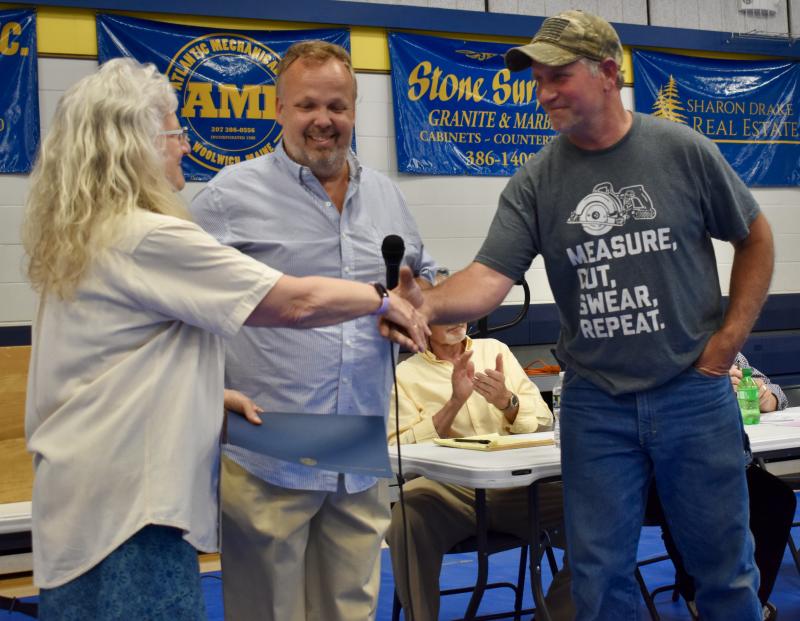 Woolwich voters reward town officials with raises
Woolwich voters took 90 minutes Wednesday night to approve a $ 2.2 million budget at their annual meeting. The rally at Woolwich Central School marked the return of the annual meeting on Saturday midweek. The approved budget included 5-10% increases for city officials and a $ 2,000 increase in the allocation to the small council.
City administrator Kim Dalton said this year's budget, which excludes school expenses, was an increase of $ 251,579 from last year. One of the biggest expenses was raising $ 100,000 for the first of three installments to fund a city-wide property reassessment. Woolwich's last reassessment was in 2005. "The city would be wise and foolish not to put funds aside to start this process," said Selectmen chairman David King Sr.
The articles have been grouped together, eliminating the need for moderator John Chapman to read them individually. Exceptions were made for big ticket items; the 47 articles were passed by a vote of about 73 voters who surrendered. The longest discussion was about the $ 214,050 to continue curbside garbage and recycling collection, which increased by $ 12,000 due to rising tipping fee costs. King said the city could save money if residents compost and recycle more.
Voters approved a 10% increase for the city administrator and 5% for the clerk and tax collector. Voters increased the annual allowance for the five selectmen from $ 3,000 to $ 5,000. King noted that the allowance had not been increased for 14 years. Increases for office staff would bring the city closer to other communities, he added.
Voters raised $ 231,113 to fund the city's 24/7 ambulance service, and $ 146,679 for the fire department and an additional $ 11,600 to purchase two inflatable packs for the first stakeholders. Voters also approved the first of three installments of $ 5,878 to purchase a LUCAS Chest Compression CPR System for the ambulance service. Voters unanimously approved the expenditure of $ 734,999 for highways and bridges, and a new item – $ 40,000 for repair and maintenance of the city's unpaved roads (approximately eight miles). Voters raised $ 10,000 to comply with the state's new paid vacation law.
Voters approved a contribution of $ 57,969 to Patten Free Library of Bath to maintain community membership. Contributions to other non-profit groups totaled $ 20,142 and were passed on by a large majority. These included $ 5,000 to continue the Maine Maritime Boat Building Program at Woolwich Central School; $ 3,084 for Sweetser, a non-profit community mental health provider and $ 2,500 for the Jesse Albert Dental Clinic in Bath.
Voters passed a Food Sovereignty Ordinance allowing the private sale of locally produced food without state authorization, with few exceptions.
Selectmen dedicated this year's city annual report, the 261st edition, city administrator and treasurer Kim Dalton, city clerk Anthony Blasi and tax collector Candace Conrad. At the start of the meeting, selected men Allison Hepler and Jason Shaw presented the 2021 Spirit of America award to Matt Gagnon, thanking him for installing and removing the public floats at Nequasset Park.