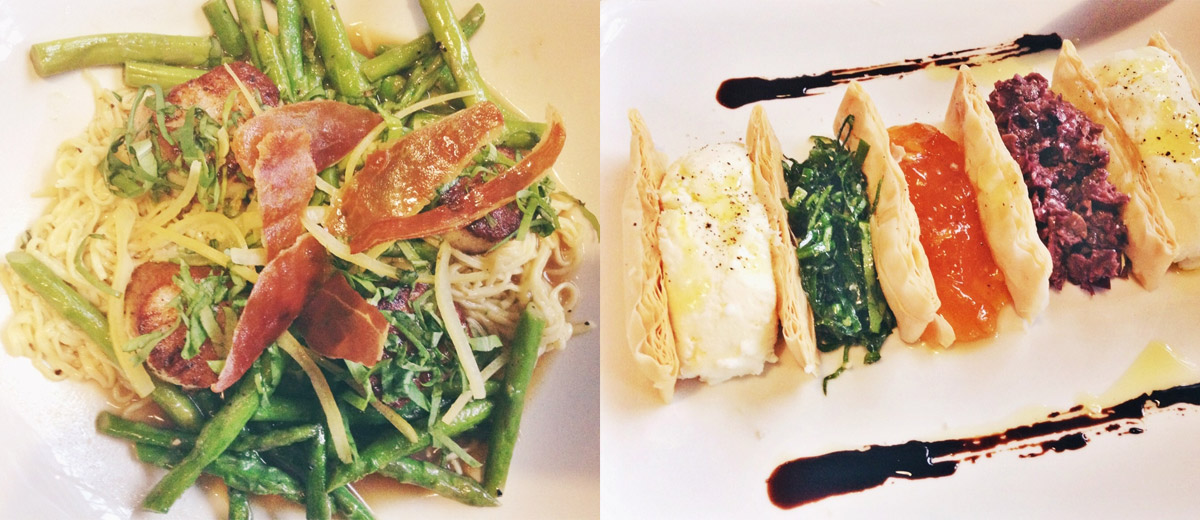 Yelp Roulette: Lost Gastropub
For those unable to perfectly serve the sophisticated palates of a group of people, choosing a restaurant can be a crippling experience. Many times in life when faced with restaurant choices, I merged with a pool of indecision until a more level-headed member of my dinner party, upset, suggests just picking up wings or something, God. But it's a decision that a night can make or break. I mean, I've seen relationships end over arguing about which restaurant to choose. It's messy shit.
Enter Yelp Roulette, a website that searches nearby restaurants in the Yelp database, spins a virtual wheel, and makes the selections for you. (You're off the hook!) After you've made your choice of restaurants, you have three options: spin again, read the Yelp reviews for the property, or say "Fuck it" and go to the damn place, completely blind.
Choosing option C in my first Yelp Roulette experiment, indecisive indecision, and having full confidence in directing myself towards the right place to eat. Maybe I've already had experience with the restaurant, maybe I've only heard its name in one section of "Dirty Dining". It is a gamble that I am taking for you and I am pleased to announce on my first try that this gamble has paid off in my favor.
Visited restaurant: Prodigal gastropub ((240 E. Pittsburgh Ave., 414-223-3030)
Average Yelp Rating: 3.5 Stars (52 Ratings)
My experience: After changing the rules in favor of local restaurants when my first two spins fell on Chipotle's 27th Street location and the Hooters in Brookfield (seriously), I was relieved when my third spin revealed Walker's Point's Prodigal Gastropub, a facility I did had intended to visit since it opened last summer. On a cool Saturday night, my dinner attendant and I stepped in through one of the restaurant's four garage doors that lined the front of the room. It was the only open door of the four, though the promise of a semi-open dining experience on warmer days makes me want to return when the temperatures are more seasonal. Like many other restaurants in Walker's Point / Third Ward, the room is dressed in the typical "rustic-industrial" uniform: wooden tables, concrete floors, open pipes that meander through the high ceilings of the restaurant, and walls that are lined with reclaimed wood are. It's a space that says more "upscale burgers" than "fine dining," which sets the tone for the restaurant's menu: chic cuisine that doesn't put off the plebes among the more refined foodies.
Prodigal focuses on the "pub" side of this self-proclaimed gastropub and should more than satisfy whiskey lovers. 28 types of spirits are offered on its four-page drinks menu. Since I am not trained in the type of whiskey, I stopped by to check out the craft cocktails, though ended up defying the overly verbose descriptions, which were a little bit also Fan pants for my taste. (The menu, however, has plenty of "classic cocktail" options for sidecar and old fashioned enthusiasts.) Instead, I switched to the beer menu, which featured a well-rounded selection of drafts and bottles from a handful of breweries in the US and Canada. I ended up going for a Unibroue Raftman Amber Ale, while my companion picked a Boulder Mojo IPA on Nitro.
At the beginning we asked our server – which has just made itself present enough during our meal – to recommend some of his favorite starters. He kindly gave out three top options: Clock Shadow Creamery Ricotta, Panzanella, and Flatbread. We opted for the ricotta ($ 10) and when it arrived at our table a short time later we were completely impressed with the artful presentation. But more importantly, it was damn tasty. Flaky strips of baked phyllo separated from a sample of orange jam, chopped kalamata olives, and chiffonad spinach, flanked by two servings of sweet, creamy ricotta – one of the best ricotta cheeses I've ever tried. It was a great sign of things to come.
The seasonal menu does not differentiate between starters, small plates or starters, but can be easily deduced by looking at the prices and descriptions of the individual dishes. Entrees cost between $ 5 and $ 16, and entrees are between $ 12 and $ 26. I'm a sucker for scallops on a restaurant's menu, so I was determined when I noticed Prodigal's $ 20 scallop starter, which was accompanied by fresh pasta, asparagus, ham jus, canned lemon, and sorrel. When I was brought to the table, I found that the bed of "fresh noodles" under four perfectly tender seared scallops was likely the same noodles that were in the advertised "10 dollar ramen bowl" of the Restaurants were used, which was hosted every Wednesday. I really loved the idea as the tender noodles in a simple broth were so humble that the scallops became a star or a show (with a welcome enhancement with light shavings from canned lemon peel).
My meal companion decided on the special dinner: seared pork tenderloin with apple chips, Pomme Anna, and whole seed mustard jus on devilish egg yolk ($ 18). While the pork medallions were just a little cold, the complex taste of the sum of the parts of the dish more than made up for it.
We ended our meal with a dessert: Carrot Spoon Cake (6 USD) – two sweet, dense cakes with a scoop of (absolutely delicious) cream cheese ice cream, on top of walnut crumble, drizzled molasses and chervil. Our inner fats appreciated that the dessert was big enough to share while completely satisfying our collective sweet tooth, even though we wouldn't have bothered with more (oh … six or seven) scoops of this irresistibly rich cream cheese ice cream.
Prodigal offers a menu that is creative and artful, but with no pretext. Offering a balance between dishes like veal tartare and duck confit poutine with pulled pork sandwiches and andouille sausage, it welcomes foodie snobs or the nondescript dinner that will undoubtedly stumble upon a visit to the nearby summer festival site is advised. The starter portions are respectable for the price, the presentation is thoughtful, and the food is elegant without taking itself too seriously.
My review: 4 stars